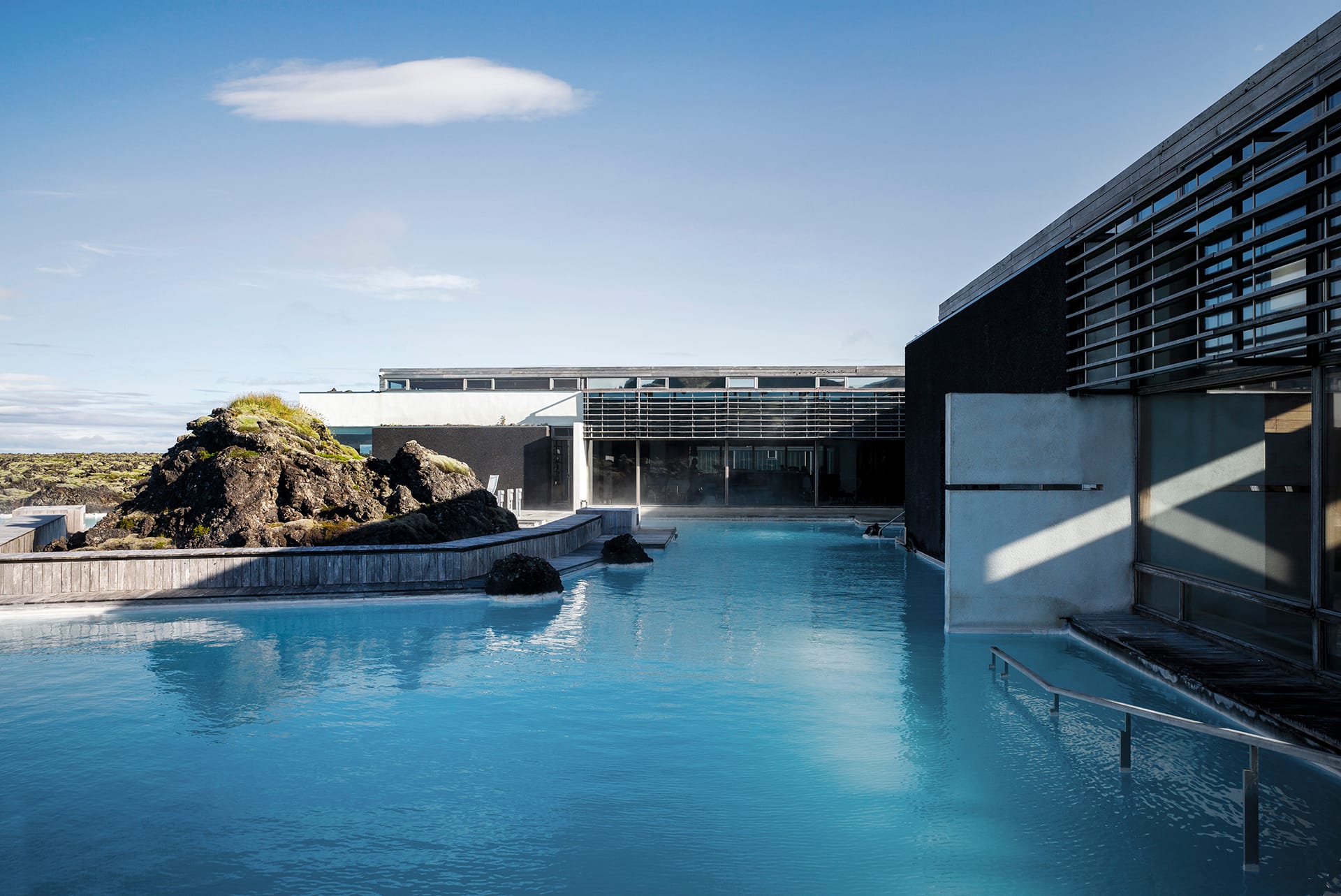 The unique Blue Lagoon is perhaps Iceland's most famous natural wonder. EFLA has worked on numerous engineering design and consultancy projects at the Blue Lagoon over the years.
The Challenge
The projects at the Blue Lagoon were technically demanding, not least because the volcanic terrain and harsh climate posed significant engineering challenges. Plus, it's essential that tourist infrastructure at the Blue Lagoon does not detract from the stunning setting or harm the ecosystem. As leading Icelandic engineers, EFLA has the experience to undertake such complex and specialised work. We produced designs that work in harmony with the environment, preserving the Blue Lagoon for visitors' enjoyment for years to come.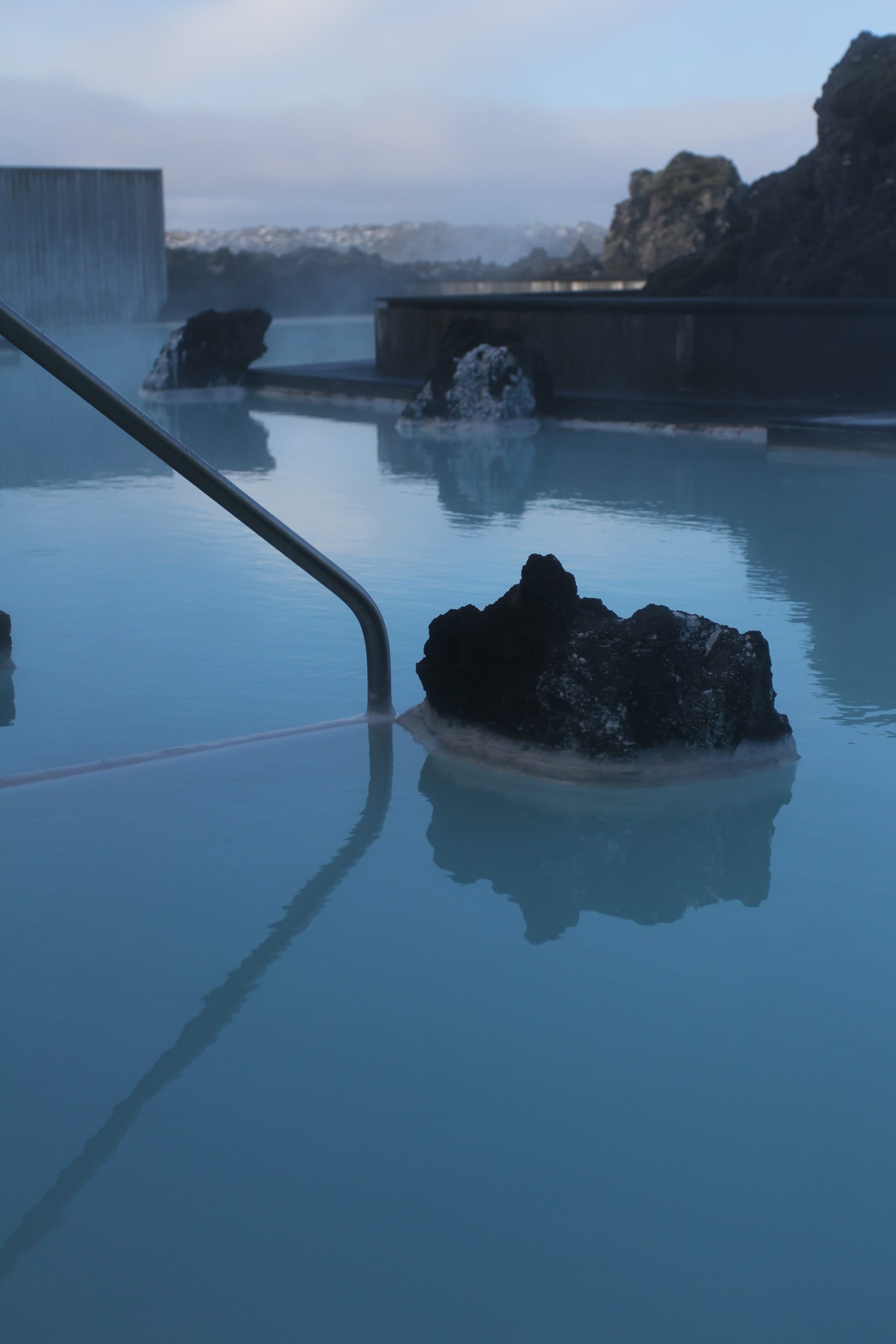 Blue Lagoon production centre (2003-5)
EFLA was commissioned to design a variety of key systems for use in the project, including its structural design. Again, we had to meet the engineering challenges presented by the natural environment, and ensure high aesthetic quality. Our scope included structural, geotechnical and overall acoustic design, as well as the design of a fire safety system including escape routes, fire and smoke barriers, detection and alarm systems, and automatic sprinklers.
The structure is supported by a series of columns and wall footings cast on-site, with a concrete slab on grade. Exterior walls are constructed from pre-cast sandwich panels with a washed lava coating, and the roof comprises light sandwich panels supported by steel beams spanning up to 18 metres.
In all three projects, all steel was hot-dip galvanized and painted before construction. The outer layer of the precast elements was reinforced with stainless steel.
The Blue Lagoon skin clinic (2004-5)
This project entailed structural designs for a subterranean area for specialist treatments. The unique environmental surroundings and climactic conditions of the Blue Lagoon posed particular engineering challenges, for which EFLA developed bespoke solutions. As this is a luxury establishment, high aesthetic standards were essential. We developed a washed lava coating for wall panels, and were also in charge of pre-testing and weather testing the lava concrete.
This has cast-in-place concrete elements including slab on grade, columns and beams. Most walls and slabs in the building are made from precast elements, including insulated sandwich panels with a washed lava coating. Some interior wall elements have washed lava on one side, while others have smooth sides with slab elements comprising Filigran panels with concrete topping. Steel is used in the structural system, while the roof is built up with sandwich panels spanning steel beams.
The Retreat Hotel and Spa, Blue Lagoon (2013-15)
We developed engineering designs for a therapy wing, restaurant, changing rooms, laundry room, storage area and multi-function rooms. These complement other facilities at the hotel, including shops, a gym and further restaurants.
The technical systems in the building were many and complex, with each room and spa area having its own temperature and ventilation requirements. Special consideration was given to protecting the natural surroundings and pristine waters of the lagoon.
EFLA's scope included structural, electrical, ventilation and pipe, acoustic, building physics, and facade design.
Sewage goes through a treatment system, then to a borehole. Greywater from the heating system, showers and washing machines is piped through a separate treatment system, then down to a borehole.
The ventilation system comprises mechanical ventilation plus air heaters for each area. Heating is by floor radiators and ventilation grilles by large windows to prevent precipitation and cold draughts. A snow melting system is in place at all walkways by entrances, and all buildings are equipped with fire sprinkler systems.