EFLA Consulting Engineers is working on a project in Croatia, in Bjelovar, involving geothermal energy. As part of the implementation of the project, a study trip to Reykjavik was made. The purpose of the visit was to exchange experiences and knowledge, and examples of good practices in the use of geothermal energy.
About the project
The representative of the Project Team of the City of Bjelovar, the Head of the Administrative Department for Communal Activities and Spatial Planning Kristina Kocur, and the Project Manager Anita Košar Ulemek in front of the company Logička matrica visited Iceland, where they visited EFLA Consulting Engineers, and OR Reykjavík Energy, which is an electric power and utility company owned by three municipalities and operates through its three branches to provide services to households, businesses and institutions.
All over the South of Iceland
They visited the headquarters of ON Power, within the 130-hectare Geothermal Park, and the Hellisheiði power plant, which is currently the second largest geothermal power plant in the world and the largest in Iceland. Kocur and Košar Ulemek also visited another geothermal area within the city, the Elliðaár valley.
To gain insight into examples of the use of geothermal energy in agriculture, they visited the Friðheimar Tomato Farm greenhouse. The farm uses geothermal energy to heat the greenhouse and produce the electricity needed for artificial lights and a climate control system for growing tomatoes and cucumbers all year round.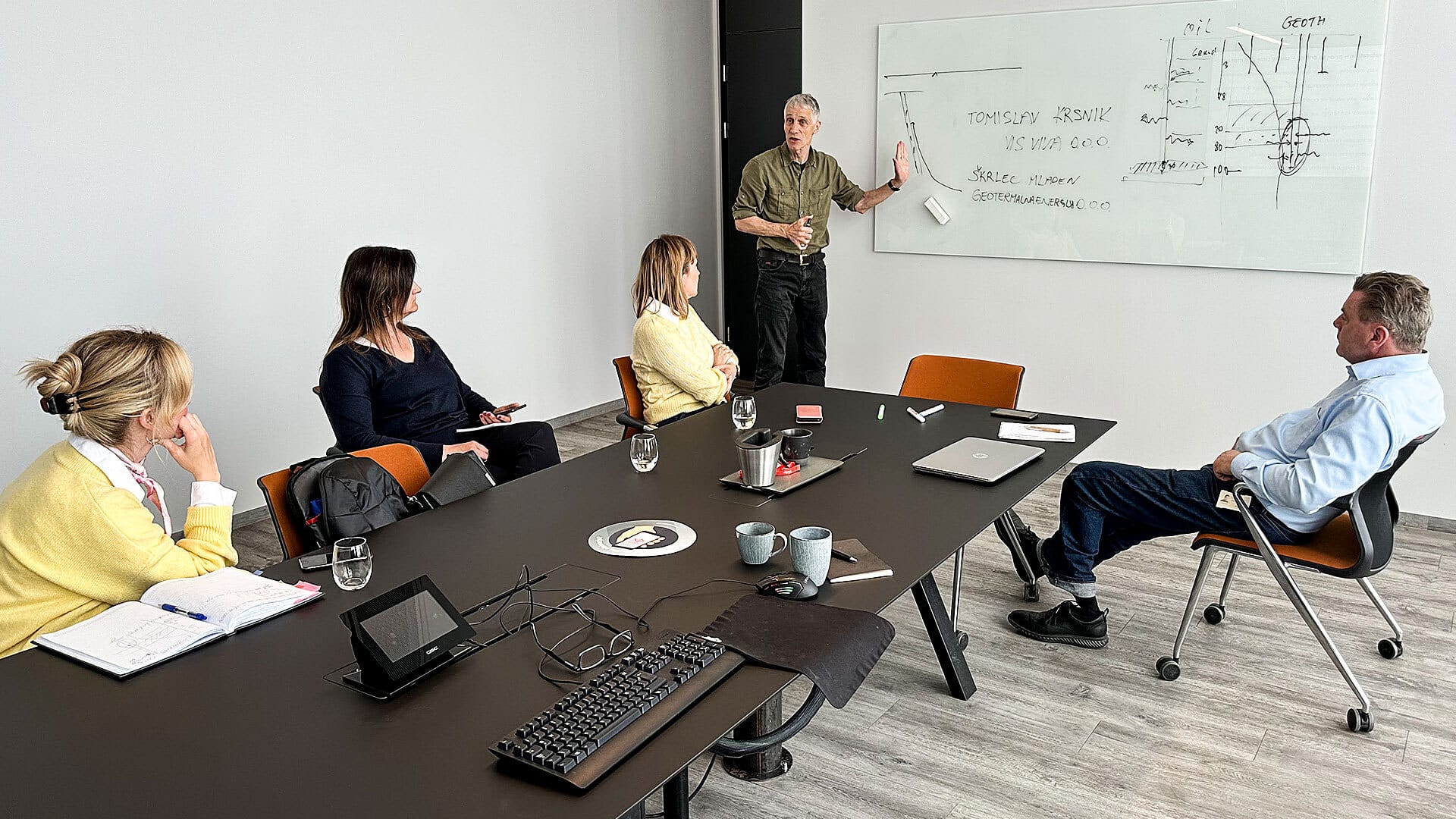 Meetings at EFLA's headquarters
In addition to visiting Iceland's geysers and natural phenomena, meetings were held at the EFLA's headquarters, and experiences and knowledge were exchanged with project team members. They also received answers to certain questions and challenges they are currently facing regarding the creation of technical documentation, which precedes the actual drilling to develop the established potentials.
After the documentation has been created, the drill hole construction will start with the installed capacity for geothermal energy production. The project aims to increase energy production from renewable sources, reduce CO2 emissions and increase the security of supply. The project's purpose is to produce energy with lower carbon emissions and increased security of supply through the preparation of technical documentation necessary to reach the stage of drill hole construction and exploitation/production of geothermal energy.