Arctic Circle, an international conference will take place in Harpa on October 14-17, and EFLA will take part in the conference. Representatives of EFLA have organized a breakout session on Saturday on harnessing wind energy and the production of electric fuel in the northern regions.
Assembly attended by 60 countries
The Arctic Circle Assembly is held in Harpa Reykjavík from 14. to 17. October. The Arctic Circle is an international conference were attendees from 60 countries gather to cover the importance of fighting climate change, partnerships in those matters and the future of the Arctic.
EFLA partakes in the conference this year and has done so since 2013. This year EFLA, alongside its partners, will organize a breakout session where the opportunities in harnessing wind energy and producing electric fuel in the Arctic region will be discussed.
Breakout Session: Can stranded wind energy affect the Arctic society?
Saturday, 16. October at 11:05 to 12:00
Jón Heiðar Ríkharðsson – Mechanical Engineer C.S., MBA, EFLA Consulting Engineers
The Role of Wind Energy and Hydrogen in Energy and Food Security of the Arctic.
Hallmar Halldórsson - CEO and co-founder, Clara Arctic Energy
Hydrogen in the Arctic Region. Land- and Maritime Based Applications
Ari Trausti Guðmundsson – Geophysicist and Writer
Sustainability and Energy Production in the Arctic
Alexandra Kjeld – Environmental Engineer, M.Sc. EFLA Consulting Engineers
Sustainability of Wind Energy in Iceland – A Life-Cycle Perspective.
Birta Kristín Helgadóttir, project manager, Green by Iceland is moderator in panel.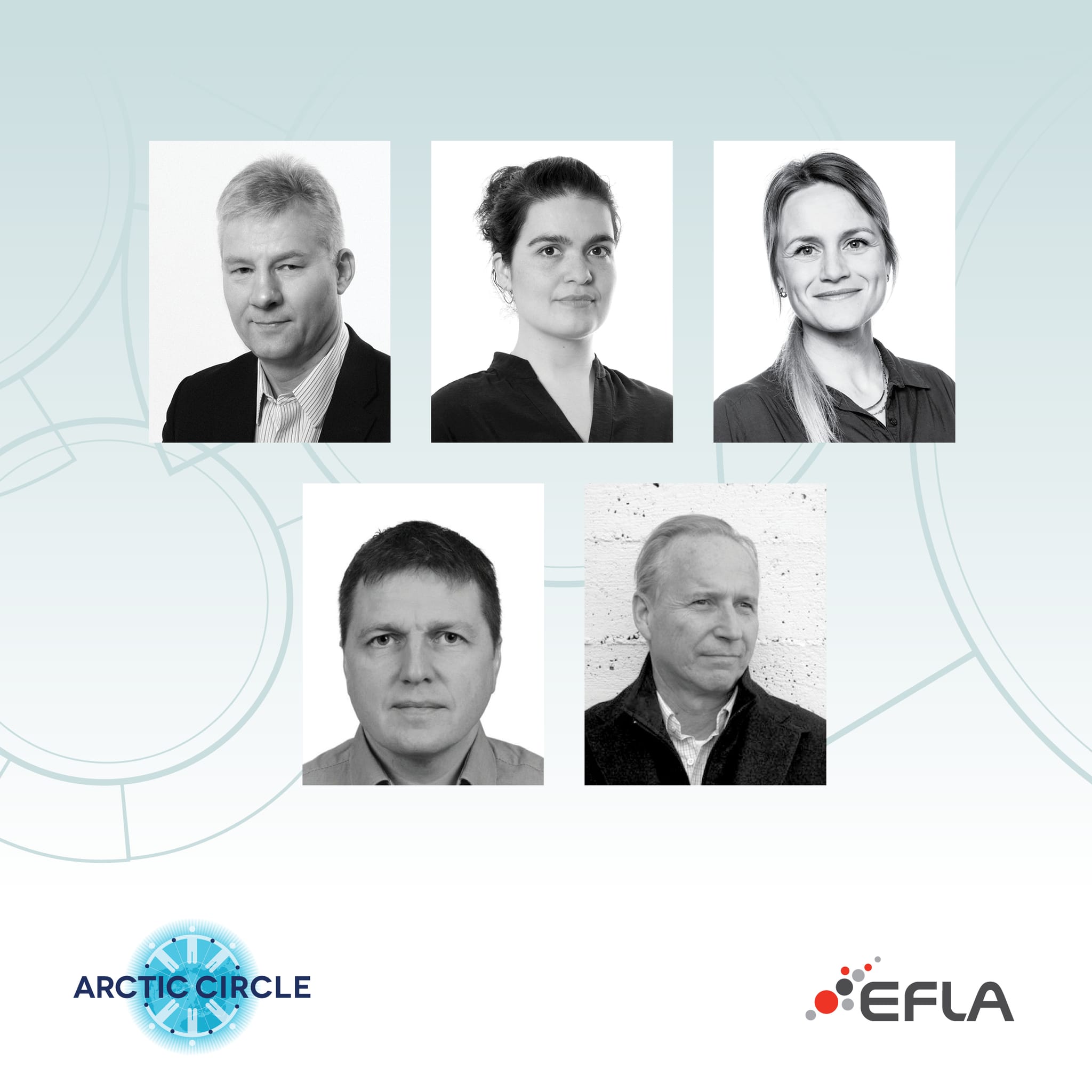 Lecturers and moderator
Hafsteinn Helgasson at EFLA will also speak at a breakout session, Climate-Neutral Europe: The role of renewable energies in the Arctic, covering the topic of climate-neutral Europe and the role of renewable energies in the Arctic. Hafsteinn will cover the opportunities and challenges of hydrogen production in Iceland.
More information about the conference can be found at: www.arcticcircle.org www.arcticcircle.org