EFLA managed all the engineering design in the brand-new Forest Lagoon geothermal spa in the north of Iceland. EFLA conducted the project in close collaboration with Basalt Architects and the landscaping studio Landslag .
The Forest Lagoon
The Forest Lagoon is a new tourist attraction in Eyjafjarðarsveit county, near the town of Akureyri, the largest in the north of Iceland. The main building, which is 850 m2, includes dressing rooms, a bistro, and an employee facility. The spa area consists of two bars, a cold tub, a sauna and two geothermal infinity pools measuring 540 m2. The environment is unique, with the lagoon surrounded by a wooded land with an extraordinary view over the fjord Eyjafjörður and the town of Akureyri.
Leading in geothermal baths
The lagoon's history began in 2014 when a vast amount of hot water was discovered during the drilling for the tunnel through the mountain, Vaðlaheiði. Late in 2020, EFLA was contacted to conduct the engineering design for a new geothermal bath by utilising the newly found geothermal water. EFLA´s employees are highly experienced in designing geothermal baths and have a local office in Akureyri, two pivotal factors for EFLA being the best candidate for the project.
"EFLA has designed geothermal baths all over Iceland, The Blue Lagoon, Vök Baths, and Mývatn Nature baths. EFLA's office in Akureyri was leading in the project and drew on the experience of EFLA's employees from all over the world, including support from EFLA's lighting design team in Scotland," said Hjalti Már Bjarnason, regional manager of EFLA in Akureyri.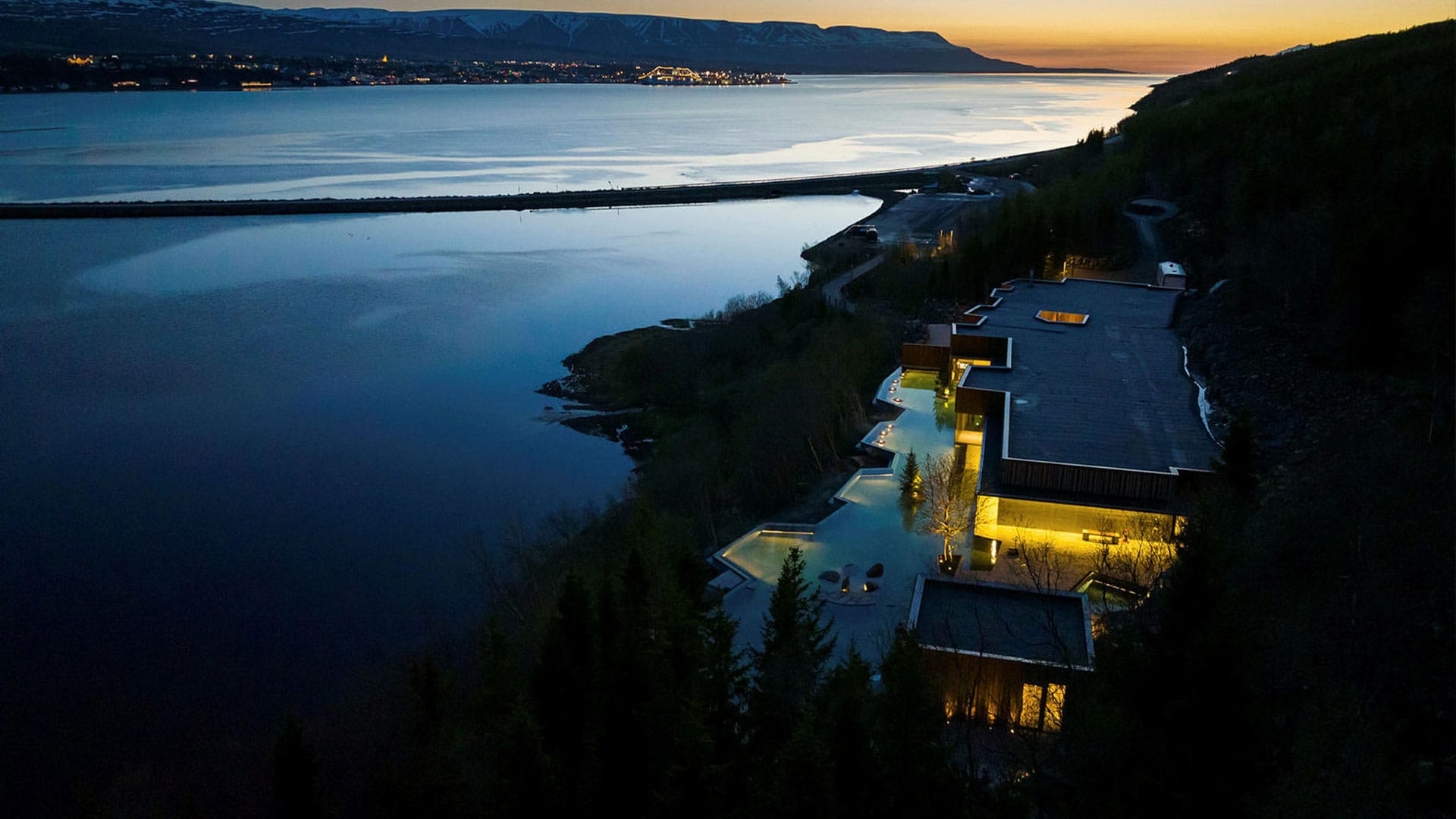 The experience is important
The experience of EFLA's employees was crucial in meeting the challenges brought on by this project. "The timeline for this project was a certain challenge and the speed of the design and erection. Those aspects meant that the designer, contractor, and client had to coordinate very well, and the result was great, with the lagoon opening within one and a half years from the beginning of the design," Hjalti Már adds.
The role of EFLA was to design the structural design of the building and pools, ventilation and pipe design, electrical and technical systems, acoustic design, fire design and the building's management system and controls. One of the specialities of the Forest Lagoon is that all the water comes from the mountain road tunnel, and no traditional water utilities are utilised.
The main aim of the design was to maximise the usage of the building and create a comfortable atmosphere for visitors. EFLA oversaw all the lighting design, aiming to create a structure that would become one with the environment. Large windows frame the magnificent view, and minimal lighting causes as little disturbance as possible. Unique subjects like trees and springs are highlighted with adequate lighting.
EFLA is exceptionally pleased with the collaboration and the result of the project and encourages everyone to visit the Forest Lagoon.